Manufacturing Cost Estimating & Inventory Software Development in India
Cross-platform manufacturing cost estimating & inventory software designed and developed for Mac, Windows & Ubuntu system. The software provides data driven analytics. It alerts the business about loss making products in real-time based on raw material & semi-finished product cost.
Interested in building something similar?
Developing a robust cross-platform manufacturing cost estimating & inventory software with real-time & prediction engine has been challenging for us. The system has been developed to work on Mac, Windows and Ubuntu system.
Manufacturing cost estimating software
Micro level estimating with real-time alerts and prediction increases profitability and efficiency
Mr Arjun, owner of a privately held manufacturing company. The company engages into manufacturing and supplying of wide range of products which include Automotive Coatings, Industrial Coatings  & more. He approached us for a solution which can provide real-time feedbacks of profitability on final goods, based on raw materials, semi-finished goods and packaging cost.

Primary objective of our engagement
Our role was centred around converting the idea into a scalable solution. We looked over the entire design and development phase of this project. We developed a scalable infrastructure, developed a prediction engine, real-time alert & notification mechanism and more.
The design guideline was set with the intent to make the user experience simple and easy to use by the staff.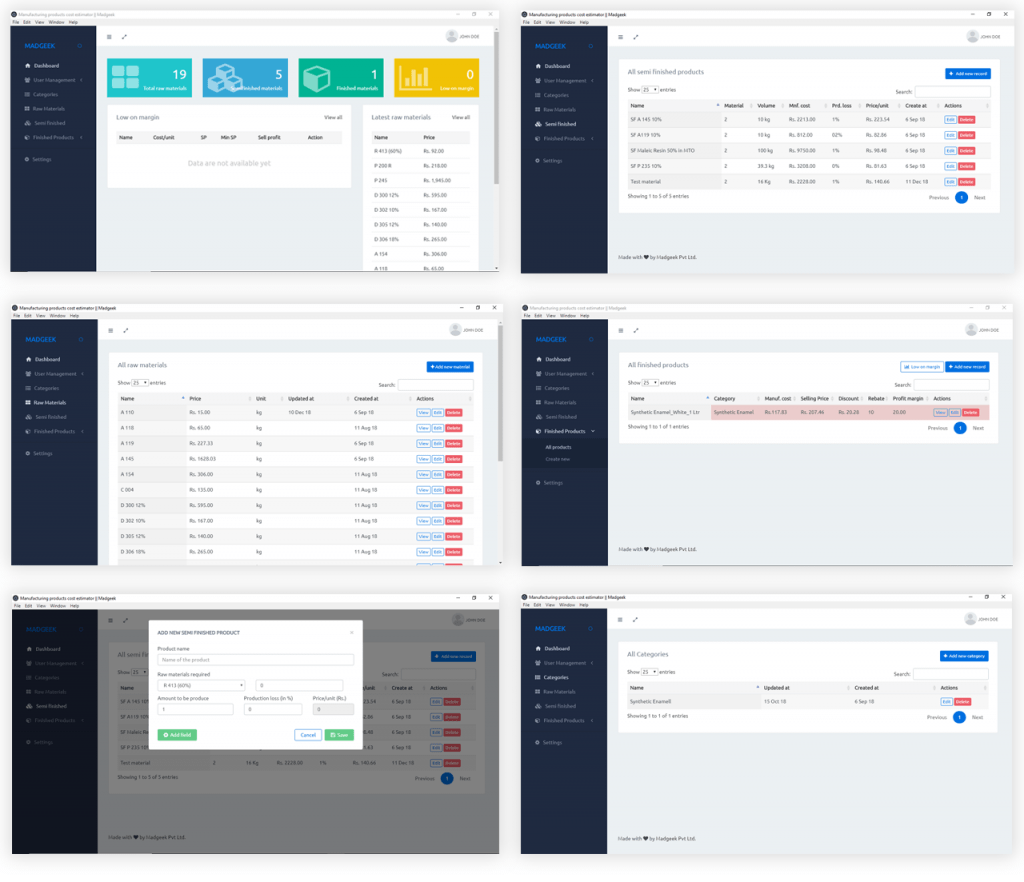 Tools, Technology & Frameworks
From Design to Scalable Solution
Madgeek designed and developed an end to end cloud-based manufacturing cost estimating software for Mr. Arjun. Madgeek created a secured, scalable and robust software for estimating and predicting cost of final product based on raw material and semi-finished item in real-time.
An admin system was developed to control the end to end operations and get timely information and reports.