InfraDaam – B2B Online Search Engine and Price Tracker of Secondary Steel Industry Products Mobile Application Development in India
InfraDaam is a reliable online price search engine application for India's Secondary Steel Industry where manufacturers can list and advertise their products and the prices so dealers and distributors can compare product variations, calculate costs, and track prices. The solution is intended to help secondary steel industry dealers and distributors track prices and cost, while providing a platform for manufacturers to advertise and communicate with potential partners and clients.
Interested in building something similar?
The challenge was developing an advanced and up-to-date B2B search engine database of products, details, and prices in real time, and an interface that allows for easy price tracking in the past days, weeks, or months and comparison of different product and brand variations. Adding advanced features such as a calculator for landing cost, price history and trends, a comprehensive search engine for TMT steel bars brands and options, also proved to be challenging.
The solution was integrated with a secure network that allows direct contact and communication between dealers or distributors and manufacturers in the industry to negotiate prices and place orders, as well as a platform for manufacturers to market their products and grow their business. We've added a section where customers can leave their review with an interactive rating system.
Creating a location-based system that shows serviceable zones of manufacturers and their delivery partners was also challenging, as well as designing a dynamic homepage builder. 
Providing a complete B2B steel price search engine of manufacturers' products, price history, and details for dealers and distributors in India's Secondary Steel Industry
We were asked to provide a solution for the growing problem of lack of sufficient information for businesses in the secondary steel industry in India. The current problem lies in the lack of a comprehensive list of all the manufacturers of TMT Steel Bars in India and the products that they offer, as well as the information about the fluctuating prices of products that can impact businesses tremendously. We were asked to create a solution that provides a landing cost-calculator along with as a search engine that allows price, product, and service zone comparison of different manufacturers to make ordering materials easier and more efficient. We were asked to develop a secured and scalable infrastructure; we developed a B2B steel price tracker and search engine app for android and iOS.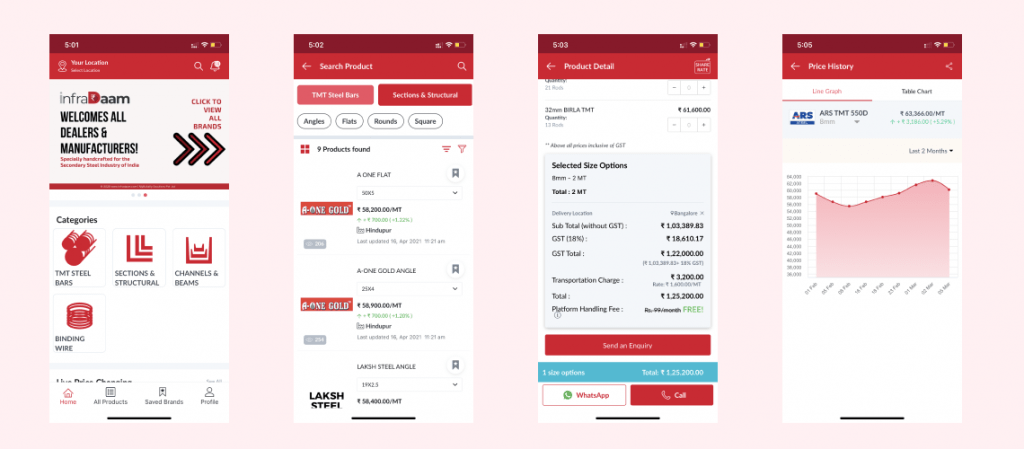 Primary objective of our engagement
Our role was centered on converting the idea into a scalable solution. We looked over every stage of the InfraDaam development project – Designing of the Website and Apps, Development of the REST APIs, Admin Dashboard, Apps, Messenger, Infrastructure.
The design guideline was set with the intent to bring more business and cost-effective solutions to steel manufacturers and distributors, dealers, and contractors in the industry. User-friendliness, accuracy of price calculations, and security of communication lines were our top priorities.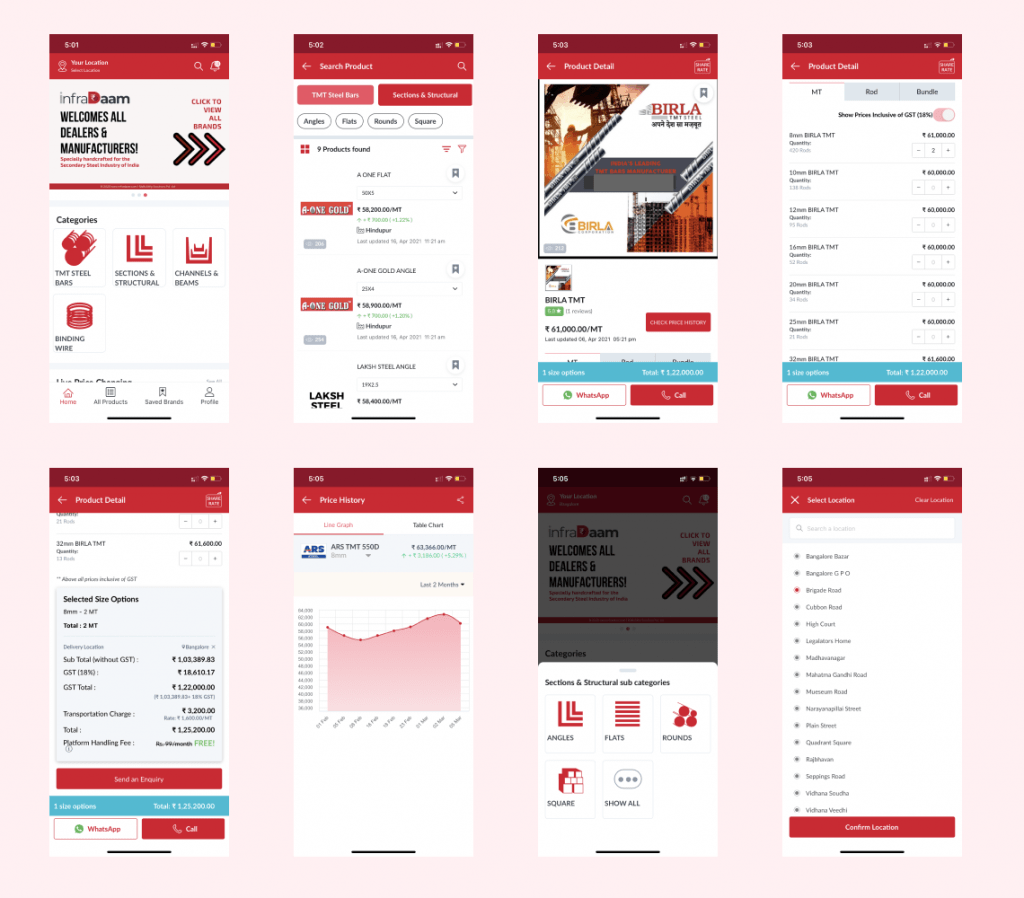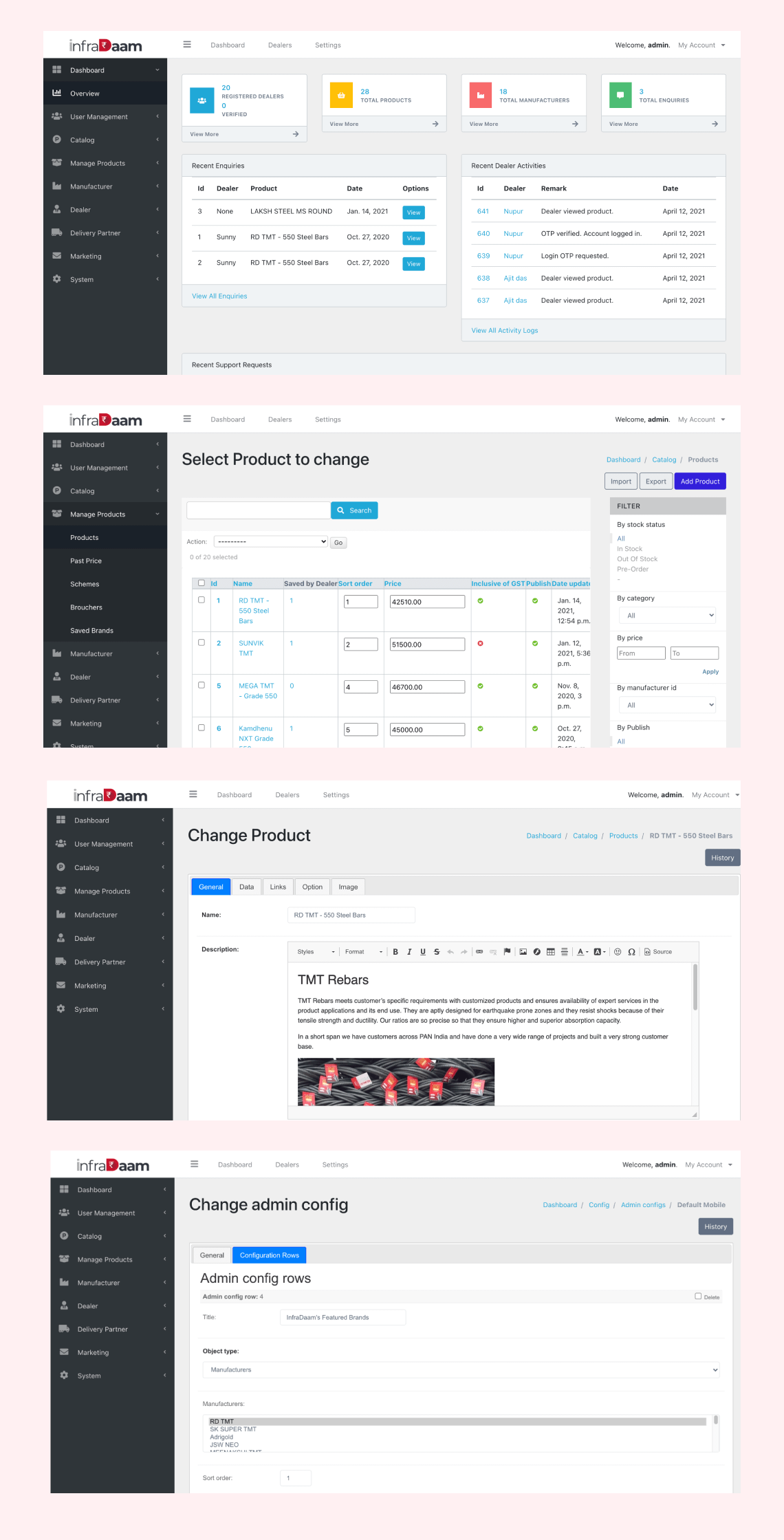 From Design to Scalable Solution
Madgeek designed and developed an end-to-end cloud-based consultation on demand mobile app for businesses in the secondary steel industry in India. Madgeek created a reliable, scalable, and secure B2B steel price tracker and search engine for manufacturers to market their products and for dealers and distributors to search for the best deals for their business needs.
The admin system was developed to control the end-to-end operations and get timely information and reports.